We had a great first Easter with a baby. We celebrated Easter/Billy's birthday on Good Friday with my family because me, Billy & Tatum were leaving Saturday morning for a weekend in Conway. My mom made Easter dresses for Tates & Stella first Easter so we had to get a picture of the sweet girls.
Tatum got lots of cute outfits (handmade, of course), books, & toys from Gigi & Pop. Tyler & his fiancé, Stefanie got her a cute giraffe outfit(we love anything giraffe) & a pink Easter bunny.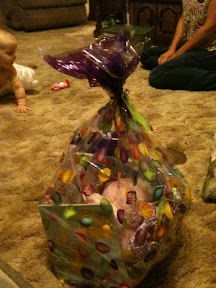 Saturday we loaded up the car & took Tatum on her first road trip to Conway.
We had a delicious birthday dinner for Billy Saturday night. Tatum got all fancied up in her Easter dress for church. It was her first church service & she never made a sound!
She got cute bath towels, a monkey & a giraffe Easter bucket from Marmar & Mac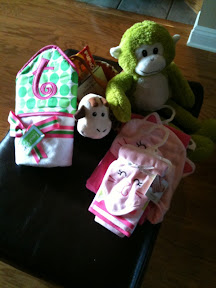 After church, we headed to Greenbrier for lunch with the Wilkinson gang & everybody got to meet her for the first time. She did soo good all weekend! So blessed!
-Posted using BlogPress from my iPhone