Tatum turned 7 months yesterday.so crazy.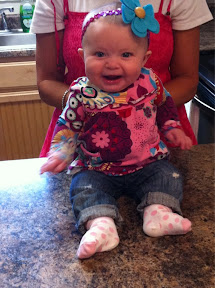 At 7 months you:
.weigh a little over 16.5 lbs
.still short-24.5 in long
.wear size 3 diapers
.wear mostly 6-9 months clothes
.have your first cold :( but you don't seem to mind
.talk more than you coo. Sometimes it sounds like you say hi & dada
.sleeping in your crib
.still take AR medicine
.only spit up once or twice a day
.may get teeth soon- I see 2 white buds underneath the surface
.you like to walk in your walker
.still not a fan of bein on your tummy
.you started turning your tongue sideways.I can't, your dad can.
.eat 5 6-8 oz bottles
.started eating baby food.you've had squash & seem to like it
Tates you are such a delight. You are still the happiest baby ever.you make parenting so fun that I'd be fine with 10 kids.you smile at everything and have the sweetest spirit.daddy and I are way more blessed than we thought was possible having you as our daughter.
Tatum & her cousin Bear
- Posted using BlogPress from my iPhone