Tatum had a wonderful Thanksgiving. We left Thursday morning for Conway to spend Thanksgiving with billys family. I think there were 36 of us for dinner. There were 6 "bigger" kiddos and 5 kiddos under 5. Can someone say crazy house? It's definitely crazy at times but we always have so much fun and it's so nice to see everyone since we usually only see them at the holidays.
The only pic I got on thanksgiving. We all wore razorback gear for the big game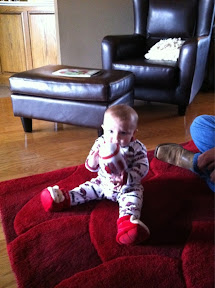 The beginning of Thanksgiving week wasn't so good for this momma. We flew in from Houston to Little Rock last Sunday, stayed in Conway for the day and got home late that night. Monday we went to my parents for dinner and I started to feel bad when we got home (not unusual with this pregnancy). I got up Tuesday to make billys lunch and still wasn't feeling well. Tatum and I were ab to head to my parents for the day, I took my prenatal vitamin, gagged & almost lost all control. Thankfully I didn't toss my cookies then but did about 3 minutes later :). I was hoping it was bc I gagged taking my pill. Went to my parents and felt AWFUL. I couldn't even pick up tatum without wanting to throw up. My mom ended up taking care of her the next 2 days while I stayed there. I only got sick 3 times but it was top 5 worst sick days.
I felt better Thursday but felt pretty bad Friday night. We left Conway Saturday morning and that night I completely lost my voice and still haven't gotten it back. I'm guessing I have a pretty bad cold right now so I'm praying Tatum doesn't get it. I never got sick when I was pregnant with tatum. It is so not fun. This little baby must be pretty tough because he/she has been through 7 weeks of nausea, a stomach bug and now a cold. I had my first doc appt last week and baby's heartbeat was 160 and sounded great. Praise Jesus!
- Posted using BlogPress from my iPhone